I shared the bedding I had originally for our baby in a
previous post
a couple of months ago. I changed my mind (like I do about
everything
) and decided I wanted more of a vintage style bedding set for our little guy. So, I flipped the crib set I had on craigslist for a profit (woo-hoo!) and started looking at fabric choices.
I originally wanted a chevron pattern for the bumper...but after only finding it one place online for $7.50 a yard before shipping...it just didn't seem cost effective. Plus I knew I would be so paranoid that the fabric would get puked or pooped on...and who needs that stress, right?
I found a vintage twin sheet that I loved at my local thrift store (for $.99!) and decided that was the way to go. I know there are a lot of crib bumper tutorials online and this is just my own version if you are planning on making a bumper from a sheet.
Materials:
crib bumper or batting (cut to crib bumper size)
1 twin sheet
(if you are using material by the yard...you would need around 4 yds total or two for the front and two for the backside if you want them contrasting. Measure your bumper or crib first though before getting anything cut.)
2 packages (3 yds each) of double fold bias tape (mine was 1/2" wide)
matching thread
I started with a bumper that I got at Goodwill for $1. I washed it, dried it, and put it on my crib to make sure it fit correctly. (We have the Ikea Gulliver crib and mattress).
Then I took my seam ripper and took the cover off of the bumper batting. Normally I would just recover the whole thing...but my sheet material was thin and so the original bumper pattern was showing through.
Next, I made all my ties. I needed 24 total. Each package of bias tape gave me 12 (9") ties. So I cut all my bias tape in 9" segments. Then I opened up one end, folded in the raw edge about 1/4".
Next, I folded the bias tape in half lengthwise again and sewed it closed with straight stitch as close as I could to the long end.
I repeated this process for all 24 ties. You do no have to do this on both ends because the other raw edge will be sewn into the bumper later.
To make the bumper casing, I measured my crib bumper. It measured at 160" L x 10" H. I then cut four pieces out of my sheet that measured 81" L x 10.5" H.
If you had bought material by the yard...you would only need two pieces that were the length and height of the bumper.
Since my casing needed to be pieced together, I matched up the short ends of two of my long pieces (to make one long strip). I placed them right sides together and sewed them with a straight stitch (with about a 1/2" seam allowance).
Here it is unfolded and pressed. I repeated with the other two strips. Now I had two long strips that measure 162" L x 10.5" H.
To figure out where all my ties went, I measured out my crib (since Ikea cribs are slightly different than regular cribs) and measured how far apart I needed my ties to be.
I needed ties in the corners of the crib and in the middle of each long side of the crib. I needed to space out my ties about every 26.5".
I laid out one of my bumper strips (right side up) and started at the center seam that I just sewed and pinned two ties to the top (finished edges pointed in) and two ties at the bottom (finished edges pointing in). From there I measured 26.5" in each direction and pinned 4 more ties. I repeated this until I got to the ends of the strip.
At the ends of the strip I had 4 ties left. Now I only pinned 1 tie at the bottom and one at the top on either side since they would meet and be tied together on the crib.
Then I sewed each set of ties in place to the right side of the fabric.
Now I placed the other strip right side down on the strip with the ties (right side up) and sewed along both long sides. This made one long tube that was the length of my crib bumper.
I flipped the tube right side out and put my batting inside.
I had about 1" of material hanging past my last ties, so I folded it in and sewed it closed on my machine on both ends.
And that was it! Basically I could have made a few of these steps a lot easier...especially where to put all my ties. I could have just used the original bumper as a guide to mark my casing (and not do my own math)...but I wanted to make sure that the bumper fit the Ikea crib perfectly.
Also, the seam is in one of the crib corners so it's hidden and the whole bumper just looks like one big piece.
For the crib sheet I used
this tutorial
from
Prudent Baby
. Making crib sheets is SO easy and much more cost effective. Plus I like having a snug sheet on the Ikea mattress that came with our crib instead of putting a larger one on. I'm going to get some more material to make more sheets for sure! I wish I had know how to do this when my daughter was born.
Price (for bumper):
twin sheet $.99
bias tape $4.00 (with coupon)
batting $1.00
Price (for crib sheet):
2 yds brown fabric $3.00
elastic $.50
Total (for both pieces): $9.49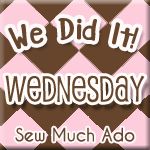 http://
Tatertots and Jello